CLAB – Data-logger for Computers and CASIO Graphic Calculators

CMA CLAB data-logger is an easy-to-use portable data-logger for STEM Education that can be used with a CASIO Graphic Calculator equipped with the E-CON program, with a PC computer and standalone, in the field and in the classroom.
CLAB is equipped with its own processor and memory, enabling measurements at high sampling rates up to 100 000 Hz with accurate independent timing.
It has FLASH memory to allow easy upgrade of the internal system software and to store measured data.
Additionally CLAB has a built-in 3-axis accelerometer.
Overview
Key Features
Sensors for CLAB
Specifications
Resources
Updates

For connecting sensors CLAB has three analog BT (right-handed) sensor inputs 1, 2, and 3 with input voltage ranges 0.. 5 V and -10 .. 10 V. These inputs support all analog CMA sensors and automatically identify these sensors.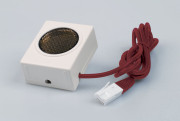 Especially for CLAB a new CMA Ultrasonic Motion Detector (BT55i), which can be connected to analog BT inputs of CLAB, is available.Overview of CMA BT sensors