VinciLab – Modern Data-logger for Science
VinciLab is our the most powerful data-logger. It is a modern, advanced but easy-to-use, graphic data acquisition system. It can be used standalone and with the computer, in the classroom and in the field.
VinciLab is a handheld Linux device equipped with two processors, a main processor to control the device's operating system and screen, and a measurement processor to control the measurement and control processes.
VinciLab has a 5" (capacitive) color touch screen that provides high-resolution display offering easy control of the device.
For wireless connectivity VinciLab is equipped with Wi-Fi and Bluetooth.
An internal rechargeable battery, located in the backside compartment, powers VinciLab.
Overview
Key Features
Sensor inputs
Specifications
Resources
Updates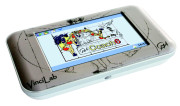 VinciLab system and its applications, including Coach, can be simple updated. We recommend to update VinciLab regularly.
To update VinciLab:
I. Connect your VinciLab to a Wi‐Fi network.
Touch 'Connections' on the Home Screen of VinciLab.
Set the Wi‐Fi slider to the position ON. VinciLab automatically scans for available Wi‐Fi connections.
When the scan is completed, touch a Wi‐Fi network to connect to. If the Wi‐Fi network is open, you will be connected automatically. If the Wi‐Fi network is secured, enter the password.
Touch 'Home' to return to the Home Screen.
II. Update your VinciLab
Touch 'Settings' on the Home Screen of VinciLab.
Touch 'Software Update'.
The Software Update screen automatically lists all installed software packages (grey) and new available updates (black).
Touch an update package to select it or touch to select all available new packages.
Start the update. The selected updates will be downloaded and installed on the device. The progress of this process is displayed on the Screen. Wait until the message 'Update is finished' appears.
Touch 'Home' to return to the Home screen.
Reboot your device.