Coach 7 is the Learning and Authoring App for STEM Education.
The Coach 7 App is free to download and install via Google Play and iTunes App Store. This App is suitable for users with a valid Coach 7 Tablet Site License or Coach 7 BYOD Site License. When starting the app the first time, you will be asked for the License Code. Contact your CMA dealer or CMA if you like to purchase the Licence for your Institution.
Are you interested in
Coach 7 App
for individual use?
Version: Coach 7.7.0
Release: 28

.06.2022
Minimum Requirements
Android 5.0 (or newer) 
Android 11 not yet supported
1 GB internal memory
ARM-processor
recommended 9-inch screen
Support for measurements with:
VinciLab (wireless via Wi-Fi),

WiLab (wireless via Bluetooth),
€Lab, €Sense, CLAB, CoachLab II+ via a USB port (via Micro USB OTG cable),
Internal accelerometer.

CMA Projects
Manuals
Support
Teaching Resources
CMA Projects
Coach 7 App does not include any CMA Projects. They have to be downloaded via the option Download CMA Projects. 

Manuals
Support
Teaching Resources
Coach 7 App for chromebooks
To enable measurement via USB interfaces, we have developed a special Coach 7 App that realizes the communication between the Coach App and the USB. Unfortunately Google still makes impossible for Android apps to work with the camera and execute measurements directly via the USB port. With the special CMA Hidserver, the problem of measuring with USB interfaces is now solved. We follow developments at Google in order to further optimize the Coach App. 
From version 7.5.1, you can measure with VinciLab via WiFi or WiLab via Bluetooth. You can also measure with the USB interfaces: the newer CoachLab II+ (starting from 2010), €Lab, €Sense and CLAB.  However, you must also install the CMA Hidserver, which you can find in the Google Chrome Webstore (https://chrome.google.com/webstore/). Search for CMA HID server.
Coach 7 does not work on Chromebooks with an AMD processor. 
Coach 7 App can be used only by users with a valid Coach 7 Tablet Site License or Coach 7 BYOD Site License. These licenses are meant for institutions like schools or universities but not for single individual users. Such users can use the free Coach 7 Lite App for measurements with the CMA interfaces or can purchase Coach 7 Modeler or Coach 7 Modeler& Video  Apps for modeling and video analysis.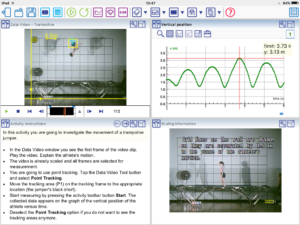 Coach 7 Modeler and Video offers functionalities needed for Video Analysis and Dynamical Modeling. This is a paid app for individual purchase.
The Data Video Activities enable you to make measurements on digital video clips to analyze motion of objects and measurements on still images to analyze shapes of objects. The Modeling Activities enable you to use ready-to-go models or to create models of dynamic changing systems.